1. MAKING AN APPOINTMENT WITH "HEALING THYMES" is making a commitment to gather the tools to elevate your life. Whether it be life coaching, spiritual connection work.
A) Pre-pairing for surgery with health and wellness in mind for amazing results
B) Cleaning out life's cobwebs.

2. Are you a Vegan, thinking of going Raw?

3. Have a teen or a child that is thinking of going meatless. Worried about balancing out your foods to get the proteins needed for a healthy life, a strong skeletal structure? Others, those who may have been eating raw for a few months or on and off for a few years even, may find that Winter is the time of year where cooked foods start to become a very attractive proposition indeed!
"I'll be addressing a number of factors and my intention is that by the end of it, no matter where you are starting from, you'll feel warmed up about the approach you personally will be taking, so that you are at peace with your decision and can move into life with a spring in your step rather than dragging your heels!"
In regards to "raw food" educating, I'll be getting into the more nitty-gritty aspects of eating raw, featuring some great winter-warmer (raw) recipes to keep you smiling inside and out!

Assisting you in the following ways: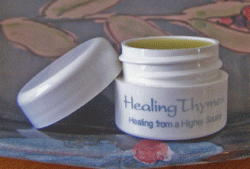 This is Healing Thymes amazing burn salve, It works on cracked heals, skin and is amazing with scaring.
---