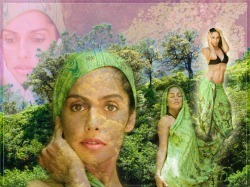 Living in the Raw
In the cold seasons people ask, "How on earth do I go raw in winter?" Others, those who may have been eating raw for a few months or on and off for a few years even, may find that this is the time of year where cooked foods start to become a very attractive proposition indeed!

I address a number of factors and my intention is that by the end of it, no matter where you are starting from, you'll feel Warmed up about the approach you personally will be taking this winter so that you are at peace with your decision and can move into winter with a spring in your step rather than dragging your heels! I'll be getting into the more nitty-gritty aspects of eating raw in winter, featuring some great winter-warmer (raw) recipes to keep you smiling inside and out! If you are worried about your teen getting enough protein, this is my specialty.
RAW FOOD CONSULTATIONS
I can assist you in the following ways:
1) Develop a TRANSITIONAL PLAN to RAW FOOD balancing that works for you.
2) Help you OVERCOME EMOTIONAL EATING and FOOD ADDICTIONS.
3) Give you EFFECTIVE TOOLS that work for you to move from COOKED FOOD CRAVINGS.
4) To LIVE FOODS that you will WANT instead of CRAVE.
5) Give you WORKING PLANS to deal with the SOCIAL ASPECTS of changing to a RAW FOOD DIET.
6) Assist you in staying MOTIVATED and ELATE in living a raw food life.

$150 per hour in person, by SKYPE or phone.

A healthy, vibrant life is possible for anyone! All we have to do is choose to change to a raw food life and supply our bodies with the nutrition that it wants. Let me assist you in the process of improving your health!

Raw Food Transitional Coaching is fun, it opens you up to a world of Organic, Non-Gmo foods that you may have never experienced before.






---